Maldives State Shipping partners with Lanka Shipping & Logistics to bring M/V MSS Galena for her maiden call at Colombo Port
Lanka Shipping & Logistics Ltd. was honoured to welcome the delegates headed by Maldives State Shipping General Manager Captain Mohamed Nazim, on the ceremonial occasion of the maiden voyage of the M/V MSS Galena to the Port of Colombo, which berthed at SAGT on 20 November. M/V MSS Galena, built in 2002 in the Damen Shipyard in the Netherlands, is the first ship owned by Maldives State Shipping and is registered under the Maldivian flag. At 142 metres in length, she can load up to 680 TEUS using her own self-sustaining cranes on-board or by using shore gantry cranes.

As the nominated local ships' agent of Maldives State Shipping in Colombo, Lanka Shipping was able to carry out a perfectly choreographed sequence of events in coordination with the port, the ship and owners of M/V MSS Galena. The ship berthed on Saturday 20 November at 7:45 a.m. and loaded containers bound for Maldives. Upon completion of a perfectly planned cargo operation, she sailed out from the Port of Colombo to her home Port of Male' on Sunday 21 November at 1:05 a.m. M/V MSS Galena will then not be a stranger to the Port of Colombo anymore and plans to be back for the purpose of discharging and loading containerised cargo on a weekly schedule. This will be the second ship of Maldives State Shipping which will call at the Port of Colombo.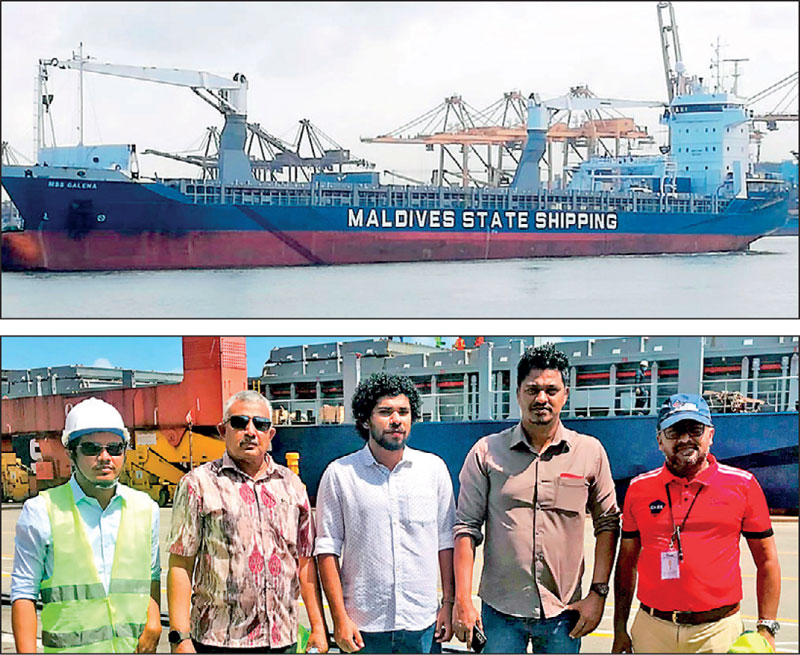 Lanka Shipping (LSL) have grown from strength to strength under the guidance of Chairman Saliya Senanayake and Group Managing Director Ananda Senanayake. LSL provides end-to-end solutions and is a company that believes in the 'One Stop Shop Solution' concept to the clients. Hence, LSL provides not only husbandry services but also ancillary services to add to their vast menu.

LSL strongly believes that this provides ease of doing business to the clients and, in the process, improving quality and standards of services provided. The M/V MSS Galena enjoyed this with LSL as LSL provided services such as supply of ship stores, ship spare deliveries and further facilitated all approvals and handling processes of ships repairs conducted under Colombo Dock Yard Ltd. during her maiden call at the Port of Colombo.